Rock with Wings: A Leaphorn, Chee & Manuelito Novel (Hardcover)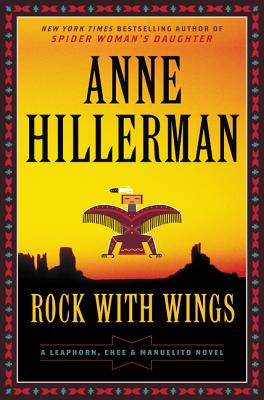 This item is not available for sale on this site.
Other Books in Series
This is book number 2 in the A Leaphorn, Chee & Manuelito Novel series.
Staff Reviews
---
What a joy to open Hillerman's Rock with Wings and be back in the world of Jim Chee and Joe Leaphorn of the Navajo Tribal Police, caught up in a mystery as it unfolds–and I do mean caught up, because this mystery, just as Anne Hillerman's first mystery, Spider Woman's Daughter, will keep you turning pages until you get to its satisfying conclusion. At least it did me. I kept finding excuses to put off anything that took me away from this book.
Like her famous father, Tony Hillerman, Anne is a gifted story teller, and the world of Jim Chee and Joe Leaphorn must be in her blood, the way she brings it all back to life. Off-the-chart sales of her first novel testify to this. Anne Hillerman contributes her own addition to that world as well, including Jim Chee's wife, Bernadette Manuelito of the Tribal Police, as an equal protagonist, allowing Hillerman to weave a complex mystery that involves all three master mystery solvers.
What starts out to be much needed a working vacation for Jim Chee and his wife Bernadette (Bernie) in Monument Valley, turns out to be anything but, with Bernie being called back home because her sister is in jail, and Jim stumbling into a mystery involving a movie company filming in the area. Bernie soon becomes involved in a mystery of her own, and it will take Joe Leaphorn to help them understand all the connections.
Along the way, their course is studded with jewels of Navajo culture, history, and mythology–to say nothing of glimpses of stunning vistas, such as the one in Monument Valley, where the rock formations look "ethereal, like enormous petrified creatures frozen in time on a landscape huge enough to accommodate them."
Not only can readers find this amazing mystery at the Peregrine Book Company, but are welcome to hear Anne Hillerman read and talk about mystery writing on Wednesday, May 13th at 6pm. Readers will be guaranteed a reserved seat and place in the signing line simply by purchasing the book–or can simply show up early to find a seat and their own place in the signing line. —Susan
— Susan Lang
Description
---
Amazon Best Mystery of 2015
Navajo Tribal cops Jim Chee and Bernadette Manuelito, and their mentor, the legendary Lieutenant Joe Leaphorn, investigate two perplexing cases in this exciting Southwestern mystery from the New York Times bestselling author of Spider Woman's Daughter.
Doing a good deed for a relative offers the perfect opportunity for Sergeant Jim Chee and his wife, Officer Bernie Manuelito, to get away from the daily grind of police work. But two cases will call them back from their short vacation and separate them—one near Shiprock, and the other at iconic Monument Valley.
Chee follows a series of seemingly random and cryptic clues that lead to a missing woman, a coldblooded thug, and a mysterious mound of dirt and rocks that could be a gravesite. Bernie has her hands full managing the fallout from a drug bust gone wrong, uncovering the origins of a fire in the middle of nowhere, and looking into an ambitious solar energy development with long-ranging consequences for Navajo land.
Under the guidance of their mentor, retired Lieutenant Joe Leaphorn, Bernie and Chee will navigate unexpected obstacles and confront the greatest challenge yet to their skills, commitment, and courage.
About the Author
---
Anne Hillerman, the author of the Leaphorn-Chee-Manuelito series, began her career as a journalist and writer of nonfiction books. The daughter of New York Times bestselling author Tony Hillerman, she lives in Santa Fe, New Mexico. This is her sixth novel and the twenty-fourth in the Hillerman series.
Praise For…
---
"Hillerman uses the southwestern setting as effectively as her late father did while skillfully combining Native American lore with present-day social issues."
— Publishers Weekly

Advance Praise for Rock With Wings "With a background of tribal law and custom, Anne Hillerman ties up multiple subplots in concise prose, evoking the beauty of the desert and building suspense to a perilous climax. Tony would be proud."
— Booklist