lost rea: Book IV of the Earth Chronicles (Mass Market)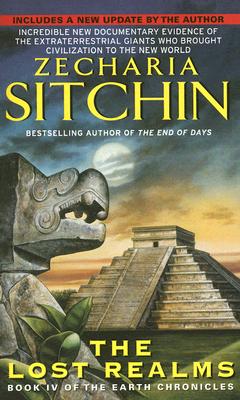 $8.99

Available from our Warehouse (Not in store currently)
Other Books in Series
This is book number 4 in the Earth Chronicles series.
Description
---
The groundbreaking, bestselling series—millions of copies sold worldwide!
A classic of ancient human history—and one of the inspirations behind the History Channel's Ancient Aliens—Zecharia Sitchin's Earth Chronicles series is the revelatory and deeply provocative masterwork that forever altered humankind's view of our history and our destiny.
In the sixteenth century, Spanish conquerors came to the New World in search of El Dorado, the fabled city of gold. Instead, they encountered inexplicable phenomena that have puzzled scholars and historians ever since: massive stone edifices constructed in the Earth's most inaccessible regions . . . great monuments forged with impossible skill and unknown tools . . . intricate carvings describing events and places half a world away.
Who were the bearded "gods of the golden wand" who had brought civilization to the Americas millennia before Columbus? Who were the giants whose sculpted stone heads in Mesoamerica still mystify to this day?
In this remarkably researched fourth volume of The Earth Chronicles, author and explorer Zecharia Sitchin uncovers the long-hidden secrets of the lost New World civilizations of the Olmecs, Aztecs, Mayas and Incas, and links the conquistadors' quest for El Dorado to the extraterrestrials who searched there for gold long before.
About the Author
---
Zecharia Sitchin is an internationally acclaimed author and researcher whose books offer evidence that we are not alone in our own solar system. One of a handful of scholars able to read the Sumerian cuneiform tablets, he has combined archaeology, ancient texts, and the Bible with the latest scientific discoveries to retell the history and prehistory of mankind and planet Earth. His trailblazing books have been translated into more than twenty languages; his first one, an oft-quoted classic, celebrates the thirtieth anniversary of its publication. A graduate of the University of London and a journalist and editor in Israel for many years, he now lives and writes in New York.
Praise For…
---
"A must for all those interested in ancient mysteries." — New York Tribune
"Exciting…intriguing." — Washington Times
"Exceedingly well-documented…brilliant scholarship." — UFO Magazine
"Reflects the highest levels of scientific knowledge…" — Science & Religion News
"A detailed account of the material he has uncovered…intriguing, fact-filled." — The Beacon
"Imaginative and thought-provoking." — Daily Mirror
"The Earth Chronicles are a must read." — Borderlands