First Eagle CD Low Price (Abridged / CD-Audio)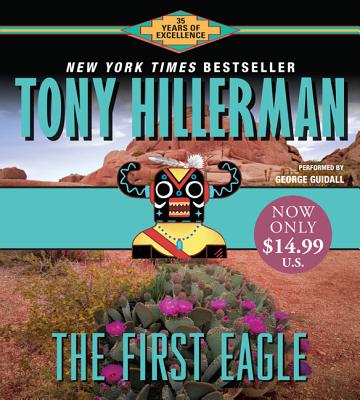 Description
---
For acting lieutenant Jim Chee, the murder of a Navajo Tribal Police Officer seems like an open-and-shut case when he discovers a Hopi poacher huddled over the victim's butchered corpse. However, Chee's newly retired predecessor, Joe Leaphorn, believes otherwise.
Hired to find a missing biologist who was searching for the key to a virulent hidden plague -- and who vanished in the same area and on the same day the policeman was slain -- Leaphorn suspects both events are somehow connected. And the reported sighting of a "skinwalker" -- a Navajo witch -- has Leaphorn and Chee seeking answers to a deadly riddle in a dark place where superstition and science collide.
Performed by George Guidall
About the Author
---
TONY HILLERMAN served as president of the Mystery Writers of America and received the Edgar and Grand Master Awards. His other honors include the Center for the American Indian's Ambassador Award, the Spur Award for Best Western Novel, and the Navajo Tribal Council Special Friend of the Dineh Award. A native of Oklahoma, Tony Hillerman lived in Albuquerque, New Mexico, until his death in 2008.
George Guidall is one of the foremost narrators in the audiobook industry, having recorded over 500 unabridged books ranging from classics to contemporary bestsellers. He is the recipient of the 1999 Audie Award presented by the Audio Publishers Association for the best narration of unabridged fiction.