Cosmic Ordering in 7 Easy Steps: How to Make Life Work for You (Paperback)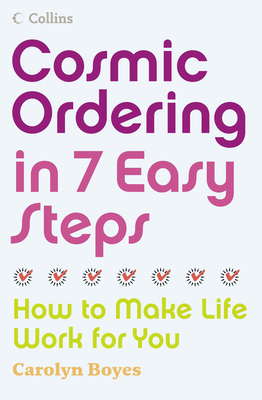 $9.99

Available from our Warehouse (Not in store currently)
(This book cannot be returned)
Description
---
A step-by-step guide to placing the perfect order and bringing happiness to all areas of your life.
Jonathan Cainer's Cosmic Ordering gave you the theory. Now you need to put it into practice
This practical guide helps you order your way to perfect happiness in 7 easy steps:
1. Understand the Universe
2. Decide what you want
3. Turn your wants into orders
4. Take charge of your thoughts and beliefs
5. Access your inner power
6. Place your order
7. Let the Universe decide the how
This is the only step-by-step guide to cosmic ordering available, getting you to write it down as you go along to define your order and make it a reality. Improve every area of your life, and discover the secret to health, money, love, success and unlimited happiness.
Contains:
Questionnaires and worksheets to help you make it happen (eg. if you were to begin your life right now, name the five most important things you would want; name three things you are grateful for; keep your evidence diary)
Tips for completing the worksheets (eg. which area takes priority?)
Exercises (eg. how to access a deeply relaxed state)
Case studies
About the Author
---
Carolyn is qualified as a Trainer of Neuro-linguistic-programming and holds a Doctorate in Clinical Hypnotherapy. Her first degree was in classical and modern Chinese and Japanese and she has studied many of the world's spiritual and esoteric traditions and philosophies including Taoism, Confucianism (in Chinese), Huna (Hawaiian shamanism), Reiki, Tai Chi, Qi Gong, the Western Mystery traditions, as well as psychic development and different forms of meditation. Her publications include Gem Psychic Powers, NTK NLP and NTK Body Language.