1-3 pm

| SATURDAY, JUNE 17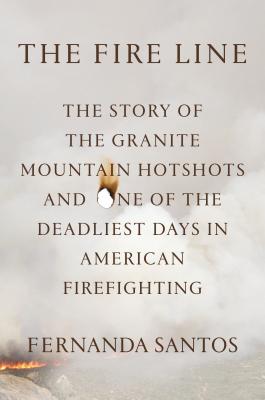 Join the author, family members, first responders and trail crew for a moderated panel discussion.
Every summer elite groups of men and women around the country brave the elements to fight wild fires raging around the country. On June 30th, 2013, twenty men known as the Granite Mountain Hotshots set out to battle the Yarnell Hill Fire in central Arizona. Nineteen died, the greatest loss of firefighters since the 9/11 attacks.
Please Note: Fernanda Santos will appear at 2 events at the Prescott Valley Library located at 7401 E. Civic Circle, Prescott Valley. Copies of The Fire Line will be available for sale at the events and at the Peregrine Book Company.
• On Friday, June 16th at 6 pm, Fernanda Santos will lead a discussion about her book, The Fire Line in the library's Crystal Room. Read More »
• On Saturday, June 17th at 1 pm, Fernanda Santos will be one of several panelists discussing the 2013 Yarnell Hill Fire.
About the Book
As temperatures rise, droughts intensify, urban sprawl proliferates, and, in an ironic twist, forest conservation efforts ramp up, wildfires have become more dangerous and pervasive throughout the western United States. When a lighting strike ignited a hilltop in Yarnell, Arizona, in June 2013 the nearby Granite Mountain Hotshots sprang into action. Taking place a mere 45 minute drive from their homes in Prescott, AZ, the Hotshots were comprised of college dropouts, convicted felons, former Marines, and recovering addicts. Yet these men believed in second chances, leaning on each other for support and trusting each other with their lives, dedicated to the tough job they had. The Yarnell Hill Fire lasted for more than ten days, burned over 8,400 acres of land, destroyed 129 buildings, and claimed the lives of 19 heroes.
Praise for the Book
"In her fine-grained style, Santos portentously documents their activities the night before they marched into action. Switching to the enemy, Santos explains forest-fire behavior, accelerating the drama by tracking that particular blaze… A conscientious and complete researcher, Santos will leave readers awed, somber, and moved." —Booklist

"[Santos] makes a valuable contribution to the literature of disaster preparedness and management— and given that wildfire is a growing problem in the ever more arid West, that literature needs all the good work it can get." —Kirkus Reviews
About the Author
Fernanda Santos covers Arizona and New Mexico as the Phoenix bureau chief for The New York Times. Fire Line, her first book, won the Western Writers of America 2017 Spur Award for Best First Nonfiction Book. Stationed in Phoenix at the time, Santos tried to reach Yarnell to cover the fire for the New York Times. Unable to get into the city due to roadblocks she filed her first story from her car, filling it with the stories of people who were fleeing the city as the fire encroached on their homes and businesses.
Santos was previously based in New York, where she covered the New York City public school system; Mayor Michael R. Bloomberg's City Hall; Queens, New York City's most ethnically diverse borough; and the rural and suburban communities of New York State. Ms. Santos holds a bachelor's degree in social communications from Pontifícia Universidade Católica of Rio de Janeiro, Brazil, her home country, and a master's degree in print journalism from Boston University. She came to the United States in 1998 and, prior to joining The Times, she worked at The Republican in Springfield, Mass.; The Eagle-Tribune in Lawrence, Mass.; The Daily News of New York; and People Magazine. She co-wrote "Latinos in the United States: A Resource Guide for Journalists," published in 2001, and traveled to Colombia in 2005 as a fellow for the International Reporting Project. She speaks four languages – English, Portuguese, Spanish and French – and is trying to learn a fifth, Italian. Learn more about Fernanda Santos »
Event date:
Saturday, June 17, 2017 - 1:00pm
Event address:
Prescott Valley Public Library
7401 E. Civic Circle
Prescott Valley
,
AZ
86314