3pm – 5pm

| SATURDAY, MARCH 11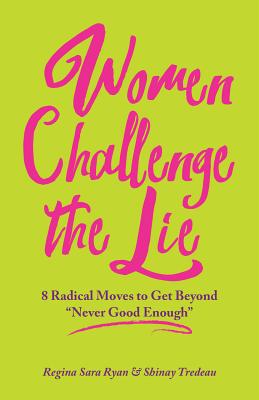 Prescott College Advisor Regina Sara Ryan and yoga instructor Shinay Tredeau co-authored the book Women Challenge the Lie: 8 Radical Moves to Get Beyond "Never Good Enough." Join these two authors as they share their insights at the Peregrine.
About the Book
Women Challenge the Lie… is an invitation for women of all ages to confront the "Never Good Enough" — a common subtext of modern life that undermines their appreciation of inherent beauty and goodness. The authors recommend 8 Radical Moves, to take alone or ideally in the good company of other women, to meet this challenge, and thereby sustain and deepen this commitment to selfunderstanding and compassion.
Each of the 8 Radical Moves provides a different access to a woman's "basic goodness." For one, the Move to "Inhabit Your Body" will be key to claiming (or reclaiming) a more loving relationship with herself. For another, the Move called "Learn to Fly" will be just the encouragement needed to refine a meditation practice or further ignite a spiritual longing.
Filled with dozens of personal stories and practical wisdom, Women Challenge the Lie is ideal for women's groups and book clubs; yoga teachers and students; mothers and daughters; caring friends and sisters.
About the Authors
Regina Sara Ryan, a professional writer and editor, is a graduate advisor in the fields of Theology and Psychology at Prescott College, Prescott, Arizona. She is the author of numerous books in the fields of spirituality and natural health. Ryan's work in spirituality evolves from her more than thirty-year study of contemplation and mysticism. In 1995 she met the South Indian saint, Yogi Ramsuratkumar and spent five weeks at his ashram in Tiruvannamalai, India. Ryan is a freelance writer and wellness consultant. She co-authored (with John W. Travis, M.D.) the classic Wellness Workbook, a standard of holistic health education since 1980. As a proponent of natural health, Ryan has long been an advocate of breastfeeding as the natural and the healthiest means of feeding our babies. She lives in Paulden, Arizona. Learn more about Regina Sara Ryan »
Shinay Tredeau holds a BA in Humanities and Expressive Arts. A yoga instructor, yoga health coach, author and storyteller, she is dedicated to fostering intergenerational learning communities all over the world. Her writing has been featured in spiritual journals, independent magazines and online publications. She has spent the last thirteen years studying the human body through cultural immersions, dance, writing and yoga. As the wife of a wild-land firefighter, she spends summers in the high desert of Arizona, cooking delicious food and occasionally working. Her love for writing is surpassed only by her love for dancing. Learn more about Shinay Tredeau »
Event date:
Saturday, March 11, 2017 -

3:00pm

to

5:00pm
Event address:
The Peregrine Book Company
219A North Cortez