11 am

| WEDNESDAY, DECEMBER 6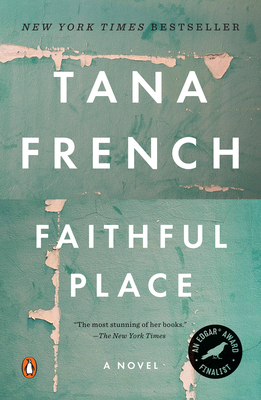 Join us for the Peregrine Book Company's Mystery Book Club, a club for readers of mysteries, suspense, thrillers, noir, and whodunnits.
The book for each specific month will be available at 10% off the listed price.
Questions or comments? Ask for Jon!
The book we will be discussing on December 6th will be Faithful Place by Tana French.
About the Author and the Book
New York Times bestselling author Tana French:
"has become required reading for anyone who appreciates tough, unflinching intelligence and ingenious plotting" (The New York Times)
"is the most interesting, most important crime novelist to emerge in the past 10 years" (The Washington Post)
"Faithful Place by Tana French is just plain good storytelling. Frank, an undercover cop, is dragged back into his complicated and violent personal past by a shocking discovery, and as a result finds himself at the center of a riveting tale about family and how even loving relationships can turn destructive. The importance of Dublin as a setting - both in the present and recent past - can't be overlooked as French makes the city a living, breathing character lurking in the background of this compelling tale."
— Charlotte Tuinman, M is for Mystery, San Mateo, CA
Back in 1985, Frank Mackey was a nineteen-year-old kid with a dream of escaping his family's cramped flat on Faithful Place and running away to London with his girl, Rosie Daly. But on the night they were supposed to leave, Rosie didn't show. Frank took it for granted that she'd dumped him- probably because of his alcoholic father, nutcase mother, and generally dysfunctional family. He never went home again. Neither did Rosie. Then, twenty-two years later, Rosie's suitcase shows up behind a fireplace in a derelict house on Faithful Place, and Frank, now a detective in the Dublin Undercover squad, is going home whether he likes it or not.
Getting sucked in is a lot easier than getting out again. Frank finds himself straight back in the dark tangle of relationships he left behind. The cops working the case want him out of the way, in case loyalty to his family and community makes him a liability. Faithful Place wants him out because he's a detective now, and the Place has never liked cops. Frank just wants to find out what happened to Rosie Daly-and he's willing to do whatever it takes, to himself or anyone else, to get the job done.
About the Author
---
"It has become increasingly clear that American-born, Dublin-based Tana French is the most interesting, most important crime novelist to emerge in the past 10 years." (The Washington Post) Tana is the author of the bestselling In the Woods, The Likeness, Faithful Place, Broken Harbor, The Secret Place and The Trespasser. Her books have won awards including the Edgar, Anthony, Macavity, and Barry awards, the Los Angeles Times Award for Best Mystery/Thriller, and the Irish Book Award for Crime Fiction. She lives in Dublin with her family.
Event date:
Wednesday, December 6, 2017 - 11:00am
Event address:
The Peregrine Book Company
219A North Cortez