5 pm

| TUESDAY, JUNE 13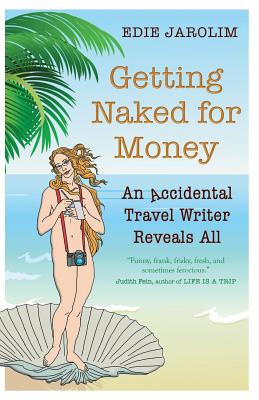 Travel author Edie Jarolim will discuss and read from her latest book, Getting Naked for Money: An Accidental Travel Writer Reveals All. Her dog, Madeleine, will look cute and accept treats.
About the Book
The story of a Brooklyn-born Ph.D. who left her job as a guidebook editor at Random House to move west, this wickedly funny memoir is also inspirational, especially for late starters of all stripes. Along with her humorous travel adventures, including the assignment to go to a nudist resort that gives the book its title, you'll get the inside dish on travel publishing. For example, Jarolim's Arizona for Dummies was supposed to be the Complete Idiot's Travel Guide to Arizona – until the Dummies bought out the Idiots.
Praise for the Book
Jarolim's keen sense of humor coupled with her insider's perspective add a fresh spin to this travel memoir. — Publisher's Weekly

This is a great read for armchair and seasoned travelers, whether they're naked or not. —Roger Naylor, author Boots and Burgers: An Arizona Handbook for Hungry Hikers
About the Author
She is the author of three travel guides, Frommer's San Antonio and Austin, The Complete Idiot's Travel Guide to Mexico's Beach Resorts, and Arizona for Dummies, and one dog guide, Am I Boring My Dog? And 99 Other Things Every Dog Wishes You Knew. Her articles have appeared in publications ranging from Brides and Sunset to The New York Times Book Review, National Geographic Traveler and The Wall Street Journal. She has created three blogs, Will My Dog Hate Me, focusing on all things canine; Freud's Butcher, devoted to genealogy, psychology, and meat; and EdieJarolim.com, primarily dedicated to discussing writing and publishing, but is also likely to go off on weird tangents (that's true of all the blogs, come to think of it). She currently spends most of her time in Tucson, where she is best known as a dining reviewer, but her terrier mix, Madeleine, is showing signs of restlessness.
Event date:
Tuesday, June 13, 2017 - 5:00pm
Event address:
The Peregrine Book Company
219A North Cortez