7 pm

| FRIDAY, FEBRUARY 24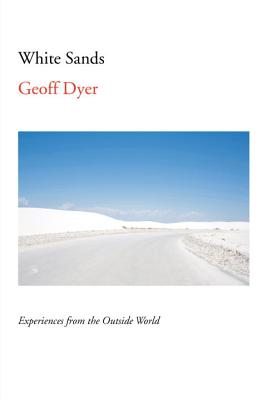 The Yavapai College Literary Southwest Series
presents novelist, essayist and winner of the National Book Critics Circle Award, Geoff Dyer, who will read excerpts from his most recent book, White Sands: Experiences from the Outside World. A discussion will follow. The author's books will be available for purchase at the event and at the Peregrine Book Company.
EVENT LOCATION: Yavapai College Library, Susan N. Webb Community Room, Building 19, Room 147. All readings are free and open to the public.
About the Author
Geoff Dyer is the author of four novels: Paris Trance, The Search, The Colour of Memory, and, most recently, Jeff in Venice, Death in Varanasi; two collections of essays, Anglo-English Attitudes and Working the Room; and five genre-defying titles: But Beautiful, The Missing of the Somme, Out of Sheer Rage, Yoga For People Who Can't Be Bothered To Do It, and The Ongoing Moment. His book, Otherwise Known as the Human Condition – a selection of essays from Anglo-English Attitudes and Working the Room – was published in the US in April 2011 and was awarded the 2011 National Book Critics Circle award for Criticism. He has also written, Zona, about Andrei Tarkovsky's film Stalker, and Another Great Day at Sea: Life Aboard the USS George H.W. Bush. In 2015 Dyer was awarded a Windham Cambell Prize for non-fiction and elected to the American Academy of Arts and Science. His new book is titled White Sands: Experiences from the Outside World. Geoff Dyer was born in Cheltenham, England, in 1958. He was educated at the local Grammar School and Corpus Christi College, Oxford. He lives in Los Angeles where he is Writer in Residence at USC. Learn more about Geoff Dyer »
About the Author's Books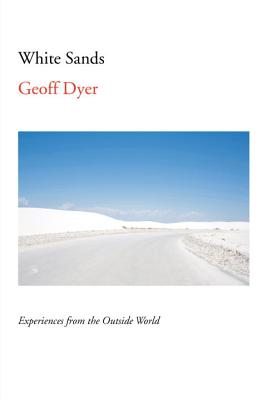 White Sands — From one of our most original writers (Kathryn Schulz, New York magazine) comes an expansive and exacting book firmly grounded but elegant, often hilarious, and always inquisitive about travel, unexpected awareness, and the questions we ask when we step outside ourselves.
Geoff Dyer's restless search for what? is unclear, even to him continues in this series of fascinating adventures and pilgrimages: with a tour guide who may not be a tour guide in the Forbidden City in Beijing; with friends in New Mexico, where D. H. Lawrence famously claimed to have had his greatest experience from the outside world; with a hitchhiker picked up on the way from White Sands; with Don Cherry (or a photo of him, at any rate) at the Watts Towers in Los Angeles. Weaving stories about places to which he has recently traveled with images and memories that have persisted since childhood, Dyer tries to work out what a certain place a certain way of marking the landscape means; what it is trying to tell us, and what we go to it to find.
With philosophical incisiveness, Dyer extols the virtue of landscape to conjure in himself the tangible and the mirage, the real and the illusion, the possessed object and the desired object. There is an undeniable joy throughout Dyer's writing, an affirmation that travel and the experience of place—not merely being someplace, but being present in it—is a gateway to the humanity of past, present, and future. A mesmerizing compendium that reflects on time, place, and just what, exactly, we are doing here. —Kirkus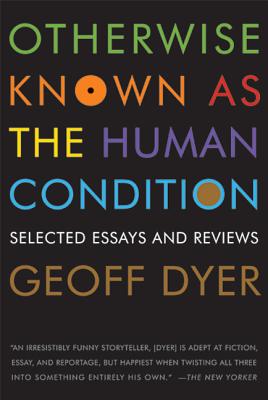 Otherwise Known as the Human Condition collects twenty-five years of essays, reviews, and misadventures. Here he is pursuing the shadow of Camus in Algeria and remembering life on the dole in Brixton in the 1980s; reflecting on Richard Avedon and Ruth Orkin, on the status of jazz and the wonderous Nusrat Fateh Ali Khan, on the sculptor ZadKine and the saxophonist David Murray (in the same essay), on his heroes Rebecca West and Ryszard Kapuscinski, on haute couture and sex in hotels. Whatever he writes about, his responses never fail to surprise. For Dyer there is no division between the reflective work of the critic and the novelist's commitment to lived experience: they are mutually illuminating ways to sharpen our perceptions. His is the rare body of work that manages to both frame our world and enlarge it.
Winner of the National Book Critics Circle Award in Criticism
A New York Times "Book Review" Editors' Choice
Dyer's writing does what the best critical writing always does, encouraging us to view, read, or listen closely to art, literature, and music as well as to pay close attention to various cultural forms and their impact on our personal lives.—Publishers Weekly
Event date:
Friday, February 24, 2017 - 7:00pm
Event address:
Yavapai College Library
Susan N. Webb Community Room Building 19, Room 147