2 pm

| SATURDAY, JULY 8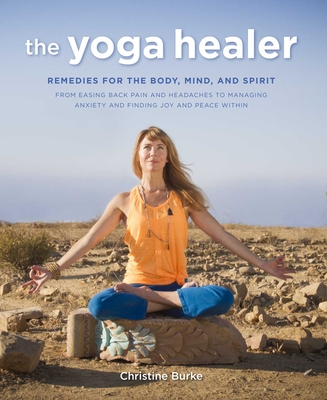 Join Christine Burke, Yoga instructor and author of The Yoga Healer for a complimentary mini workshop, a relaxing activity where participants can sit in chairs, stand or be seated on the floor. The workshop includes a meditation, mudras and simple breath work followed by Q&A about yoga, healing, energy, and more!
About the Book
In The Yoga Healer, Christine Burke, owner of Liberation Yoga and teacher of 16 years, will put the power to heal and revitalize yourself into your own hands – mind, body and spirit! Practitioners of all levels from beginner to advanced, occasional to frequent, will love this accessible handbook of remedies based on the art and science of yoga. The first three chapters – Remedies for the Body, Remedies for the Mind and Remedies for the Spirit – cover a number of physical, mental and emotional concerns and provide three simple, concise practices for each one to address the condition. The final chapter includes longer combined sequences for morning, noon and night to wake up, recharge and relax. All poses and sequences are illustrated with stylish, clear photography. Each yoga remedy is designed to last 15 minutes or less and targets a specific condition. From alleviating daily aches and pains to improving your state of mind and tapping into your creative spirit, here you will find succinct, powerful tools that can be practised anywhere, any time.
About the Author
Christine Burke has some roots in Prescott, as she states, "I spend a lot of very special time in Prescott. I was married there, my family has lived there for years. My stepfather, Dave Michelson, owns The Palace on Whiskey Row."
Burke stepped into yoga as an actress and a dancer in New York in 1994. In 2000 she received her first certification in Los Angeles as a 200-hour level teacher, and has been teaching full time ever since. She is a Registered Yoga Teacher with Yoga Alliance at the 500-hour-plus level and has taught thousands of students of all ages. Christine and her husband Gary McCleery opened Liberation Yoga in 2004. The studio has been named in the 'Top 20 Yoga Studios In The World' by Travel and Leisure magazine and 'Best Yoga Studio In LA' by LA Weekly and online city guide Citysearch on several occasions. Burke's writing has been featured in L.A. Yoga and Yogi Times and her teaching has been featured in the L.A. Times, L.A. Weekly, Yogi Times, L.A. Yoga, Westways, Great Yoga Teachers and many online magazines. She currently lives happily sharing the gift of yoga in Los Angeles, California with her husband, daughter Clementine and dog Ginger. Learn more about Christine Burke »
Event date:
Saturday, July 8, 2017 - 2:00pm
Event address:
The Peregrine Book Company
219A North Cortez