2 pm

| SATURDAY, JUNE 10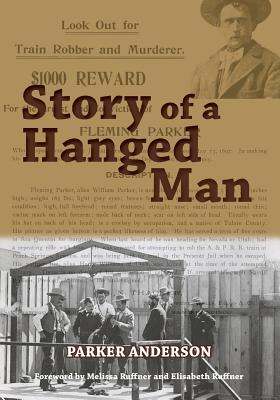 Join Parker Anderson, Elisabeth and Melissa Ruffner for a look at one of Northern Arizona's most notorious criminals. Story of a Hanged Man recounts the deeds of a daytime cowboy turned nighttime train robber and cattle rustler who exploited Yavapai County residents during the late 1800's. Melissa and Elisabeth Ruffner will join the conversation about the book to discuss the effect the event had on their family.
About the Book
The outlaw Fleming "James" Parker is one of Northern Arizona's most enduring legends—his exploits (both real and imagined) have been the subject of campfire stories and articles in pulp magazines for generations. But in spite of this, there has never been a detailed biography published on this famous train-robber and murderer—until now! Drawing on original articles, eyewitness accounts, and court papers, author Parker Anderson has written the most comprehensive account of Fleming Parker's life and crimes to date, beginning with his early petty crimes in Visalia, California; his friendship with Yavapai County Sheriff George C. Ruffner; his botched train robbery in Peach Springs, Arizona; to his hanging for murder in Prescott, Arizona in 1898.
Read more about this story in the Daily Miner »
About the Authors
Parker Anderson is an Arizona native and a recognized historian in Prescott. He is the author of the books Wicked Prescott, Cemeteries of Yavapai County and Grand Canyon Pioneer Cemetery. He has written articles for Days Past, the weekly history column in the Prescott Courier newspaper, and authored a number of Arizona history plays for Blue Rose Theater. He resides in Prescott.
Elisabeth Ruffner has been a long time resident of Prescott and with her late husband, Lester Ward "Budge" Ruffner, raised three children and operated the family business, Ruffner Funeral Home. She has been active in volunteer activities from Girl Scouts and Boy Scouts to libraries, historic preservation, open space conservation and social concerns. Ruffner served as founding president of Yavapai Heritage Foundation, the Open Space Alliance of Central Yavapai County, Friends of Prescott Public Library, Prescott Community Hospital Auxiliary, Friends of Arizona Highways magazine and as an Advisor to The National Trust for Historic Preservation.
She received a citation from the United States Department of the Interior and the Arizona Governor's Award for her historic preservation services, from the American Library Association as Trustee of the Year, honored as an Arizona History Maker and Culturekeeper, and The Elisabeth Ruffner Award from the City of Prescott, which is conferred on other Prescottonians for exemplary service in city historic preservation. Ruffner was conferred the honor of the Arizona Governor's Award for Individual Achievement in the Arts by the Arizona Commission on the Arts. Ruffner is most proud of the role she and a small committee carried out sorting and filing the close to one thousand communications received from around the world in memory of the Hotshots, Prescott's unique Wildland Fire Team. In 2015 she was honored with Supreme Court Justice Sandra Day O'Connor with the first "Linving Legacies" designation of the Arizona Women's Hall of Fame.
Melissa Ruffner, whose pioneer ancestor arrived in the Prescott area in 1867, has been an historical storyteller for the Arizona Jamboree for almost 15 years. She is the founder and operator of Prescott Historical Tours since 1981. Ruffner is the author of Prescott: A Pictorial History; Arizona Territorial Sampler: Food and Lifestyles of a Frontier, and other publications. She is the recipient of the Sharlot Hall Award, Al Merito Award (Arizona Historical Society – Tucson) and was honored as one of only one hundred Arizona Culturekeepers for the state's Centennial. Melissa performed at Best Fest, helping to celebrate Arizona's 100th year of statehood. She is the founding president and member of the Prescott Victorian Society and member of the Arizona Pioneers' Home Foundation Board.
Event date:
Saturday, June 10, 2017 - 2:00pm
Event address:
The Peregrine Book Company
219A North Cortez